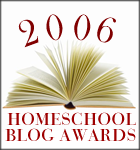 Homeschool Blog Awards is hosting voting for "best" homeschool blogs this week. "Anyone can vote. You don't have to be a homeschooler." There are many categories, and there have been many nominations for each category.
My long-time internet friend Maureen Wittmann has been nominated for "Best SUPER-HOMESCHOOLER BLOG". To me, this is particularly appropriate because she homeschools both little ones and teenagers, and is very involved in their lives and activities. She took the local youth on the March for Life to Washington D.C. and gets them involved in science fairs and competitions, as well as having her children involved in 4-H shooting sports. Her young ones are involved with pets. She reads to her children. She shares all this and more with the rest of us, for our encouragement, too; along with giving us words of wisdom about how we can do it. If you aren't already familiar with her blog, you can browse at
Maureen Wittmann
, and if you agree with me, how about going to
Homeschool Blog Awards
to vote for her blog as "Best Super-Homeschooler Blog"? The devoted awards people have made the voting very simple! Voting runs from today through Friday.
There are also some other nominees' blogs that I would recommend checking out. I will list them along with Maureen's (I'm adding hers to the list in case someone didn't read the paragraph above, but just skipped to my list. Smile.).
Best Super-Homeschooler Blog:
Maureen Wittmann
Funniest:
Danielle Bean

Best Homeschool Mom Blog:
Here in the Bonny Glen
Best Nitty-Gritty Blog:
Cajun Cottage Under the Oaks

Best Thrifty Homeschooler Blog:
An Old-Fashioned Education
Live What You Believe Homeschool Blog:
Cottage Blessings
Best New Homeschool Blog:
Real Learning
Best Homeschool Curriculum/Business Blog:
Donna Young
Best Family or Group Blog:
Love2Learn
There are many other blogs, and some of them may be wonderful too. These are just the ones that were nominated that I personally know and love.
A Note About Voting: I just voted and I noticed that after voting for a particular category, you are shown the results and then...what? Maybe I'm missing something but I didn't see a way to get to the next category, so I just used the back button on my computer. (Do you call that thing a button?? Laugh. ). Have fun voting!